aptus360° is a cloud-ready Employee Performance Management Suite-that systemically helps an organization know the most appropriate and suitable employee-for a competency and a role-today as-well-as in the future (the successor).
We believe that people capital is highly valuable. In many cases, it's the largest cost category for businesses and can be a source of competitive advantage. Organizations that engage and understand their people, and that use their insight wisely can outperform their competition. However, they are often constrained by their performance management systems due to:
Antiquated user-interfaces
Cumbersome and counter-productive accessibility
Time-consuming and tedious appraisal processes.
Complex work-flows, etc.
Unnecessary process delays result in declining productivity, increasing employee attrition, underutilized resources, skyrocketing costs, and more.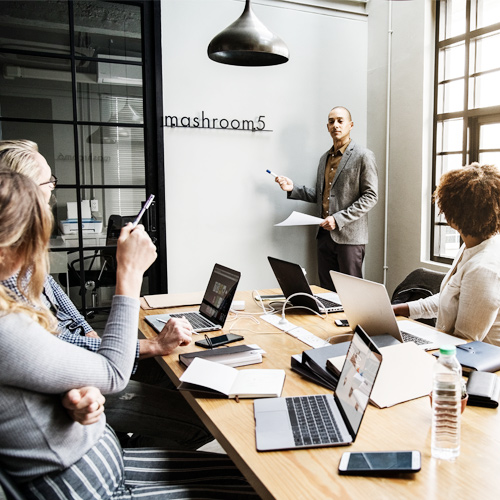 aptus360° brings innovation and yet simplicity and ease-of-use to the customer, while providing
them with features that increase people engagement and enable employee competency and
performance management in a systemic manner.
While enabling a holistic view of the organization's performance appraisal processes, the highly configurable cloud-based solution can be easily utilized by employees, managers or management and is ready for use within weeks rather than months. The offline capability enables organizations to save considerable time and effort.
aptus360° serves as a helpful tool to effectively assess employee potential, address identified areas of improvement, and reward basis better performance analysis.
Unique Propositions
Intuitive dashboard user-interface
Goal Cascading – within team, down hierarchy
Snapshot archival
Multi-dimensional, interactive Bell-Curve enabling moderation
Multiple plans for diversified groups – with exclusion definition
Performance Appraisal
Goal, Competency and Cycle definition
Self-assessment and appraisal
Multiple and alternate hierarchy definition
Performance review
Training need analysis
Extended to
Promotion
Succession planning
Condensed
IDP
PIP
Productivity
Offline secured, controlled excel interface
Robust and easy integration with any data source
On Behalf working by proxy
Automate Performance Management System
HR Department
Reduced Appraisal Cycle Time
Improved Visibility of Process Progress
Increased Efficiency & Effectiveness
Enhanced Credibility of the Department
Reduced Attrition Rate
Increased Employee Engagement
Management
Reduced Review Process Time
Greater Insight Into Workforce Capabilities
Increased Quality, Effectiveness, & Efficiency
Increased Strategic Contribution to Organization's Objectives
Boost in Bottom-line
Increased Employee Engagement
Individuals
Improved Adoption Rate
Better Visibility of Individual & Team Goals
Focus on Performance Management Process
Increased Strategic Contribution to Organization's Objectives
Increased Productivity
Performance Appraisal No Longer a Burden